About Ogasa Sensyu
Shishu (embroidery) is a historic technique that is widely known in every region and by every race in the world.
The beauty of three-dimensional embroidery is something that can never be copied by other modes of expression or styles.
We have been dedicated to creating works of art through embroidery since the day our company was established.
We do not limit ourselves to simply making "kimono designed with embroidery", as we keep on creating products that will make every woman look more beautiful and glamorous while clad in a kimono.
Brand Concept
Through hand embroidery, we fuse the traditions and histories of the world in the kimonos that we make.
Furthermore, we are particular about the use of the perfect "embroidery, color, pattern, dye, and fabric" based on the feelings evoked by the four seasons in Japan, helping us make masterpieces that combine subtle charm and luxury.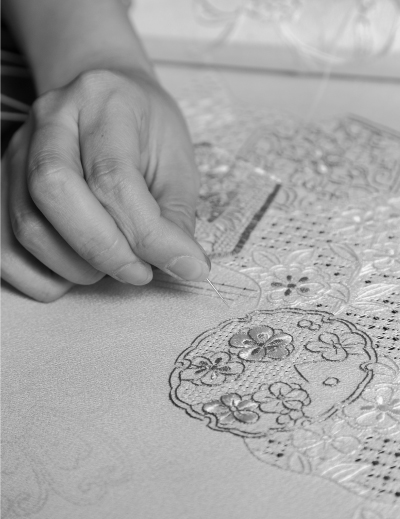 Embroidery
"We have always been and will always be dedicated to hand embroidery"
Starting with the "Swatow embroidery", "Suzhou embroidery", and "Sagara embroidery", which are collectively known as the three major types of embroidery, Ogasa pieces are made by craftsmen who are masters in quilting, kinkoma embroidery (a kind of Japanese embroidery that involves metal threads), and other embroidery techniques.

One needle at a time, craftsmen put in the time to carefully make kimonos that bring out the gloss of the threads and a three-dimensional appearance. The resulting soft texture of the kimonos is something that can only be achieved through hand embroidery.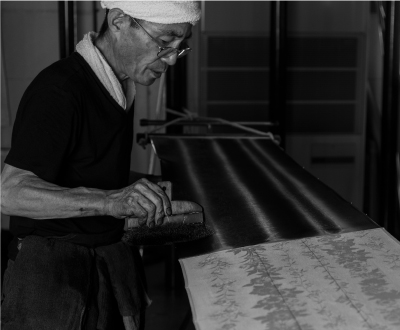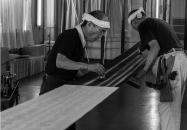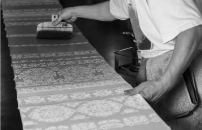 Dye
"Putting color into our ideas"
Our specialty hand embroidery technique creates a wide range of expressions through dyeing.

We are not bound to just one technique, as we have been using a wide array of dyes and dyeing techniques, such as Kyo-zome (Kyoto-style dyeing), Yuzen dyeing and other collaborations with dye artists, and traditional dyeing techniques that are used abroad.

People will not get bored looking at the works dyed by our craftsmen.